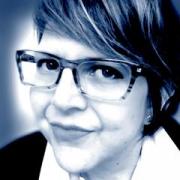 Marusa is a collaborative senior CX strategist and design-thinking leader with extensive UX and creative direction experience strategizing & crafting a range of targeted & engaging human-centric design solutions across an array of platforms, products, categories, sectors, and brands in various discovery-to-delivery management roles.
Her customer-centric work includes award-winning solutions for brands such as: Nike, Macy's, Dickies, Sony PlayStation, Starbucks, TRESemmé, IBM, Microsoft, Apple, Virgin, HondaJet, Wells Fargo, Barclays Global Investors, Citibank, Bayer, GSK, Enbrel, CSX, Carnival Cruise Lines, Sprint, AT&T, The Home Depot, BMW, Metro Atlanta Chamber, and more.
She has a BA in Advertising from The University of Georgia + an MFA in Computer Art/Human-Computer Interaction (HCI) from the School of Visual Arts in NYC.
Passionate about volunteering and being an active participant in various people-centric Research, Innovation, Tech, and Design communities locally and nationally, Marusa can often be found at various meet-ups and industry events — and has proudly been on the ATL World IA Day Leadership Committee since 2015...See you soon!