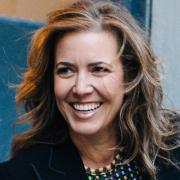 Kathleen Cohen is an XR Experience Strategist focusing on building innovative and engaging, hyper real visitor experiences utilizing immersive & disruptive tech platforms, storytelling, AI, data, and creative thinking. 
After a longstanding multi-platform career building video games, web content, animations, mobile and wearable products for DreamWorks Interactive, IBM Innovation and Disney Worldwide Parks and Resorts, as well as the National Constitution Center, helping to the tell the contemporary story of the US Constitution, Cohen formed her own consultancy group, The Collaboratorium. 
The Collaboratorium is a spatial computing/XR consortium of thought leaders focusing on developing experiences for themed attractions, location based entertainment(LBE), family entertainment centers(FEC) that include the public streetscape. Think of the Collaboratorium as your bridge to integrating a new reality. We are humanists first, that sit at the cross section of immersive imagination, product development and guest experiences.