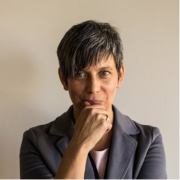 Kate has been kicking around tech as a writer, information architect, UX designer, and product design leader for over two decades. She pioneered the information architecture practice at BlackBerry and has served as the Membership Director of the IA institute.
Her sense of curiosity impels her to seek the human side of both experiences and team collaboration. Kate also believes that curiosity is a prerequisite for empathy, growth, and lifelong learning.
She attended the inaugural WIAD in Ann Arbor, MI and moderated a panel discussion at WIAD New York, NY. Kate is excited to deliver the keynote at 2021 WIAD in Toronto—her first one in Canada, her home. 
During COVID, Kate can be found kicking around her basement, where she practices her karate basics.
Join Kate's talk at 10:10am EST, Feb. 27, 2021.