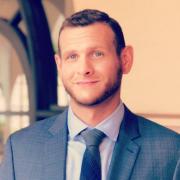 Chris is a user experience / web designer in Cleveland, Ohio. He now works as a User Experience Designer at Marcus Thomas LLC, an integrated advertising agency in Cleveland.  He also runs his own private consulting business, working with clients in the areas of web design, development and UX.
Previously, he managed user research and interactive projects at IdeaBase, a Kent State student-powered design agency and was an Interactive Designer/Developer within Kent State's University Communications and Marketing department.
He also teaches courses and workshops on responsive web design and is a former board member for UX Akron.  Chris has a bachelor's degree in Electronic Media and master's degree in User Experience Design, both from Kent State University.