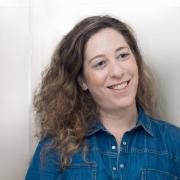 Batel Leibowitz is a UX designer who specialises in product design. 
With over seven years of experience, Batel came to ZoomInfo after working in different roles in companies like Pango and the Ministry of Foreign Affairs. In addition to her work at these companies, she also worked as a freelancer, leading design projects for both private and public companies.
Nowadays Batel is part of the ideation and design team for the ZoomInfo platform, helping industry leaders around the world find potential customers in the most accurate way and grow their revenue. Her work directly impacts over 120 thousand monthly customers from companies like Verizon, Amazon and more. 
Batel has a Bachelor's degree in Visual Communication and an MA in Information Technologies. Her research focused on the subject of Visual Information and the level of impact and influence it has on consumer behavior.