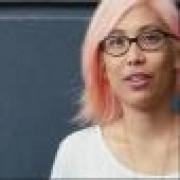 I started out as a quantitative market researcher, then discovered that I loved qualitative and media research. 
Because I really enjoyed the projects on media platforms and digital usage, I founded and grew the Interaction Design and User Experience team in our company, the Philippines' largest media network.  After that, I did digital and brand strategy for the agency side.
I now run Priority Studios (a design research consultancy) with my co-organizer, B Tuban.  We do interaction design and research work, mostly for transactional website and apps - such as e-commerce and FinTech projects.  Message us at hi@prioritystudios.com for any inquiries.